The Shadow bloged me, I'm SO flattered!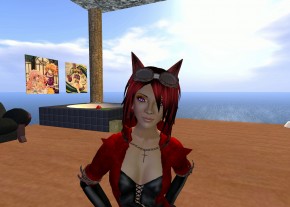 excerpt of post
Skin shopping Part 1
Yes yes, I'm evil as I've never gotten around to posting any of the stuff I've planned… RL and SL both taking up way to much time… But, I am posting a new review now. This will be a multi-part review of my favorite skins I actually bought at the Skin Fair Expo going on right now in SL.
…
The final skin in this post is EMA's Autumn skin in Shay coloring… Or vice versa, it's hard to tell without looking at their skin charts. It's actually one step darker than Gala's Luster skin, though the particular tone and coloring makes it look very Latino. Which is not a bad thing at all.
This is another eye makeup skin for me, it was all in the colorful pattern there rather than anything else that sold me on it. In this case the eye makeup was a colorful red and orange with leopard-like spots. As a neko how could I pass up eye makeup with spots? I couldn't of course. The details on this skin are very good and rival most of my other favorite skins in this list. It's also one of the most youthful looking skins I think in my collection.
EMA and Panjen are some of the smallest designers from the show and I'd like to make sure they don't get overlooked as they have very nice skins. That's it for this part of my review, I'll do more tomorrow if I have time.
Posted by theshadow at 9:41 AM